carits


Congregavit nos in unum Christi amor.
Exultemus, et in ipso iucundemur.
Timeamus, et amemus Deum vivum.
Et ex corde diligamus nos sincero.
Christ's love has gathered us into one.
Let us rejoice and be pleased in Him.
Let us fear, and let us love the living God.
And may we love each other with a sincere heart.
Simul ergo cum in unum congregamur:
Ne nos mente dividamur, caveamus.
Cessent iurgia maligna, cessent lites.
Et in medio nostri sit Christus Deus.
As we are gathered into one body,
Beware, lest we be divided in mind.
Let evil impulses stop, let controversy cease,
And may Christ our God be in our midst.
Simul quoque cum beatis videamus,
Glorianter vultum tuum, Christe Deus:
Gaudium quod est immensum, atque probum,
Saecula per infinita saeculorum. Amen.
And may we with the saints also,
See Thy face in glory, O Christ our God:
The joy that is immense and good,
Unto the ages through infinite ages. Amen.
carits




04.09.2017 Валанцёры "Карытас" Беларусь у Моладзевым лагеры ў Германіі
31.08.2017 Дзіцячы адпачынак у Бельгіі з 1 па 27 ліпеня
30.08.2017 "Мелодыі дабра": водгук у кожным сэрцы
16.03.2017 Пастырскі ліст Канферэнцыі Каталіцкіх Біскупаў у Беларусі на III нядзелю Вялікага посту (нядзеля Карытас)
26.01.2017 Праект дзіцячай вёскі "Карытас-Міласэрнасць"
Валанцёры "Карытас9quot; Беларусь у Моладзевым лагеры ў Германіі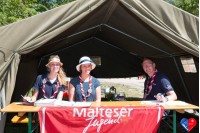 Валанцёры «Карытас» Беларусь упершыню змаглі прыняць удзел у сустрэчы, якая праходзіла з 29 ліпеня - 5 жніўня ў моладзевым цэнтры Маммендорф (дыяцэзія Мюнхен-Фрайзінгу, Германія). Паездка беларускіх рабят была арганізавана мальтыйская службай дапамогі сумесна з «Карытас» Беларусь.
Дзіцячы адпачынак у Бельгіі з 1 па 27 ліпеня
У пачатку ліпеня адбылася паездка дзяцей з розных гарадоў і вёсак Беларусі ў Бельгію. Паездку арганізавала Рэлігійная місія «Карытас» ККББ пры фінансавай падтрымцы бельгійскай арганізацыі «Euro-Children».
"Мелодыі дабра": водгук у кожным сэрцы
29 жніўня супрацоўнікі "Карытас" Мінска-Магілёўскай архідыяцэзіі сумесна з Нацыянальным "Карытас" і дапаможным біскупам Мінска-Магілёўскай архідыяцэзіі Аляксандрам Яшэўскім SDB прынялі ўдзел у дабрачынным свяце "Мелодыі дабра", якое адбылося ў Магілёўскім спецыялізаваным Доме дзіцяці для дзяцей з арганічным паражэннем цэнтральнай нервовай сістэмы з парушэннем псіхікі.
Пастырскі ліст Канферэнцыі Каталіцкіх Біскупаў у Беларусі на III нядзелю Вялікага посту (нядзеля Карытас)

Прашу вас, браты, праз літасць Божую: аддайце целы вашыя на ахвяру жывую, святую, прыемную Богу як разумнае служэнне вашае (Рым 12, 1).
Паважаныя святары, кансэкраваныя асобы, дарагія браты і сёстры ў Хрысце Пану!
Кожны дзень чалавек знаходзіцца ў пошуках рэалізацыі сваіх пажаданняў, задаволення сваіх патрэбаў. Аднак дасягаючы пастаўленай мэты, рэалізуючы свае пажаданні, чалавек адчувае задавальненне только на працягу адносна кароткага моманту. І так адбываецца ўсё жыццё, як быццам чалавечае існаванне зводзіцца толькі да пагоні за задаволеннем сваіх эгаістычных патрэбаў, з-за чаго ў выніку ўзнікае толькі стомленасць і яшчэ большая незадаволенасць тым, што чалавек мае. Той, хто не выходзіць з цеснага кола выключна матэрыяльных інтарэсаў і клопатаў, паступова губляе сапраўдны сэнс свайго існавання на зямлі і расчароўваецца ў жыцці, часам нават у росквіце сваіх чалавечых сілаў і магчымасцяў.
carits
The problem of human trafficking and forced labor is worldwide. Combating them is one of the thematic programs of Caritas Asia. Being in the Asia Pacific Region, where incidence of human trafficking is rampant, Caritas Asia has always maintained a palpable effort to empower the Caritas Member Organizations (MOs) in the region, to develop, share and sharpen their anti-human trafficking programs.
For the past several years now, Caritas Asia has been developing the capacities of the program officers and other staff members of the Caritas MOs, to further enable them to be effective responders to trafficking issues. Through the years, various regional activities, such as trainings, forums, workshops, and exposure visits, have been among Caritas Asia's strongest strategies to boost capacities and competencies of the MOs in the field of combating human trafficking.
The various capacity building initiatives organized by Caritas Asia under its AT Program have sharpened the ability of the Caritas MOs in Asia to counter human trafficking in a more sustainable manner. Among others, the learning gained by the MOs from the regional trainings, workshops, or forums are: increased knowledge and skills; better and more professional engagements on responding to trafficking victims; more robust coordination and cooperation; and wider recognition of the Caritas family in the realm of fighting human trafficking.
In January 2016, Caritas Asia reconvened the GMS Anti-Trafficking Task Force and organized a follow-up meeting in Bangkok, Thailand. It was in this meeting that the Task Force was able to collectively discuss about the large-scale movement of Rohingya asylum seekers and migrants from Western Myanmar. The Task Force actually came up with a unified statement calling for the protection of the minority ethnic group and the prevention of further smuggling of Rohingya migrants to the neighboring countries.
Since its establishment in 2014, the Task Force has been creating an environment for the GMS neighboring Caritas MOs of Cambodia, Macau, Myanmar, Thailand, and Vietnam for cooperative and mutually supportive projects against trafficking in persons.
In the field of networking and advocacy, Caritas Asia continues to take part in the regional partners' meetings of the United Nations Action for Cooperation against Trafficking in Person (UN-ACT), which is a regional project of the UN Development Program (UNDP) launched in 2014 to counter human trafficking in the GMS and beyond. The meetings have provided opportunities for Caritas Asia to share with or learn from other regional organizations experiences and expertise on advocacy, research and evaluation.
In the new Regional Strategic Plan 2017-2020 of Caritas Asia, Safe Migration and Anti-Human Trafficking remains to be one of the 7 strategic priorities of the Caritas confederation in Asia. This means that Caritas Asia will continue to work in the field of combating trafficking in persons and ensuring safe migration in the next four years through:
Institutionalize cross border coordination on anti-trafficking and migration
Establish exchange platforms to address rural to urban migration issues
Environmental Justice and Climate Change
The presence of 23 national Caritas organizations in Asia, which is home to the majority of the world's poorest people, is a big relief to a wide array of Asian communities, who are directly and hardly hit by a long range of problems and issues in the region, including problems associated with climate and food production. These tasks are not easy since each country has its own context in dealing with environmental issue.
Caritas MOs are provided opportunities to strengthen their organizational capacities in environmental and climate change adaptation issues while also improving capacities of small farm holders and farming communities in their respective countries. In implementing the program, MOs use various mechanisms and approaches towards fulfilling Caritas Asia's strategic priorities on eco-friendly agriculture mainstreaming, environmental protection, and staff development, which is in line with the Pope Francis' encyclical Laudato Si': Care for our common home
"Climate change is a global problem with grave implications: environmental, social, economic, political and for the distribution of goods. It represents one of the principal challenges facing humanity in our day " (Laudato Si', Passage 25, p. 20)
Through this encyclical, we all are invited to see and improve our relations with God, fellow men and the environment. Human beings and environment, as God's creation, are interdependent and interconnected under the situation of either mutual enrichment or mutual destruction. The environment challenges we faced today are the results of misuse technology and throw-away culture. Thus, the call for the respect of human dignity calls for a culture of care for all creation.
Under the new Regional Strategic Plan 2017 - 2020, Caritas MOs sustain the work with small holder farmers and environment issues under Environmental Justice and Climate Change Adaptation Program, with specific objectives:
Sensitize on care and respect for creation
Advocate and address issues related to climate change and environmental justice through Member organizations.
Spiritual Enhancement & Inter-Faith Dialogue
As caritas, we bear the responsibility to "uphold the Catholic Identity of Caritas as an essential service of the church to the poor". Moreover, we also have tasks in hand to promote and strengthen the in-country coordination and leadership role/function of the national caritas in the spirit of the social teachings of the church and under the guidance of Bishops' Conferences and members of the church hierarchy in every country.
Under the Regional Strategic Plan of 2017 - 2020, Caritas MOs in Asia region are looking at a stronger collaboration with Federation of Asia Bishops' Conference (FABC) and local church in the effort to facilitate the works and voice of grass root communities to be re-echoed at the parish, diocese, national and regional levels through :
Promote reflection and sharing on the catholic social teaching and fundamental basis of the caritas identity
Promote peace and harmony through ecumenical and inter-religious dialogue.
Being part of the Caritas network, we meet people from various group, background and identities who bring with them their own stories and experience. It is our task to find the stories and messages that connect people we met to our audiences and causes we serve, and inspire contributions in any kinds of acts. When tragedies strike, whether man made of natural, it is the images and the stories of those affected that move us. Again, this is our task in connecting members of Church community to the affected people through stories we write, photograph we take and messages we post on social media
Caritas MOs in Asia are engaged in different types of advocacy and campaign activities in their respective countries reflecting the concerns of Catholic Church on the growing issues in global, regional and national:
Right to Food Advocacy Group: which work towards the achievement of SDG (in particular SDG No.2) and contribute to the work of Caritas Internationalis SDGs Working Group on food security and climate change adaptation.
Greater Mekong Sub Region Anti Trafficking Task Force : consists of 5 Member organizations in neighboring countries (Cambodia, Myanmar. Thailand, Vietnam and Laos PDR) who respond to the issues around labor migration and anti-human trafficking
The main focus in 2017-2020 will be developing the capacity of member organizations in advocacy and communication, which includes technical capacities, policy, tools and sharing of resources.
Institutional Development and Capacity Strengthening
Caritas Asia is made up of 24 Member Organizations, of national identity, mandated by their respective Episcopal conferences or Ecclesiastical authorities, responsible for the local Church's socio-pastoral works. Each Member Organization maintains its own individual autonomy in its relationships and operating procedures within the legal framework of the global Caritas confederation.
Besides providing services to the communities they work with, Caritas MOs in Asia region are integral part of Caritas Asia, where member organizations have the responsibility to take part in the creation of the organizational structures and programs of Caritas Asia. They also are required to contribute towards the development and fulfillment of the strategic direction of Caritas Asia through the realization of regional strategic priorities across three aspects: Programmatic, Organizational and Cross-cutting.
Member Organizations act in accordance with the Catholic Social Teaching, the Canon Law, the requirements of the competent Ecclesiastical authorities, and the norms of behavior and criteria defined jointly within the Caritas Confederation with regard to international and regional cooperation. They accept coordination by Caritas Asia in relation to operations at the regional level and in terms of representation by Caritas Asia at inter-denominational and regional levels. Member Organizations jointly finance the bodies and activities of Caritas Asia, as they do with Caritas Internationalis.
Within the period of 2017 - 2020, the strategic objective of IDCS will focus on reinforcing the institutional capacity of member organizations.
Emergency Response and Disaster Risk Reduction
Asia is a region that has been badly affected by a multitude of disasters since the past two decades, and the possibilities of new disasters affecting the region in the coming years is very high. Natural and man-made disasters are on the rise. Many regions in Asia are considered to be in the disaster risk belts: cyclones, tornados, earthquakes, and tsunami are among the few examples of recurring hazards in the region. Climate change, political instabilities, rapid urbanization, and human ecology are some of the main contributing factors that may trigger humanitarian crisis situation in the coming years. Moreover, urban vulnerability leading to major urban humanitarian disasters will be another phenomenon that will affect the region. This means that the region will need to be well prepared to mitigate these risks.
Caritas Member Organizations in Asia, in line with the strategic goals of the confederation and the region, are highly committed to consistently improve both institutions and personnel capacities in responding to the occurring humanitarian crisis in the region. The strategic objectives for 2017 - 2020 are as following:
Create mechanisms for emergency response
Enhance the capacity of Member Organizations in emergency response
Provide and lead a platform for coordinated representation to the Asian Ministerial Conference on Disaster Risk Reduction (AMCDRR) and the World Conference on Disaster Risk Reduction (WCDRR)