Chase Sapphire Reserve: Change to $300 Travel Credit
QUICK SUMMARY: Starting on May 21, 2017, Chase is changing when new Sapphire Reserve cardholders receive their annual $300 Travel Credit. It will now be based on cardmember year and not on calendar year.
ADDITIONAL INFO: The annual $300 Travel Credit used to be based on calendar year (Jan. through Dec.), so the credit would refresh every January 1st. For this reason, it was possible to get the $300 credit twice while only paying the annual fee once. As an example, let's say you got approved for the card in May 2017. You would pay the annual fee ($450) and your first $300 credit would be available to you immediately and expire on December 31st (i.e. you had 8 months to use your first credit). Your next $300 credit would be available starting January 1, 2018, but your next annual fee wouldn't be due again until May 2018 (annual fees are based on cardmember year). Now with this change, you will pay the annual fee and receive your first $300 credit starting May 2017, but that credit will not reset until May 2018 when you pay your second annual fee. In short, the annual fee and annual credit will come together. See screenshot below. NOTE : based on the current wording, applicants who receive approval for the Sapphire Reserve card before May 21 will still be able to get two $300 credits with one annual fee payment.
WHY IT MATTERS: The Chase Sapphire Reserve's annual $300 Travel Credit is a fantastic perk that's very easy to use. Use it each year and it essentially lowers your out of pocket cost from $450 to $150. However, be mindful of when this benefit resets so you won't be surprised when certain travel purchases fail to be reimbursed.
I hate spending money but pay $450 a year for a credit card—here's why
In general, I'm good with my money. I keep track of my purchases in a spreadsheet, set aside a generous chunk of my paycheck and refuse to spend money on things I don't truly need, like cable, Uber and Seamless.
I do, however, pay $450 a year for the Chase Sapphire Reserve credit card. And before you make any snap judgments, hear me out.
To me, and others, the steep annual fee is completely worth it. Here's why.
1. The travel credit slices the annual fee by more than half
For starters, the Sapphire Reserve offers a $300 annual travel credit reimbursement each calendar year. That essentially bumps the annual fee down to $150 a year if I spend at least $300 on travel related expenses a year, which I do anyways by flying home to North Carolina several times.
2. I haven't paid for a flight since October, thanks to the sign-up bonus
Spending $4,000 on purchases in the first three months as a card holder earned me 100,000 bonus points, which is worth $1,500 if I redeem them for travel. That covers the $150 annual fee for 10 years — and that's if I never even swipe the card and therefore don't accumulate any more points.
Since signing up for the card last October, I haven't paid for a flight and still have points to redeem. So far, the bonus has covered a handful of trips home to Charlotte, plus flights to Jamaica, New Orleans, San Francisco and Chicago.
I will say that $4,000 in three months is more than I would typically spend, and any financial advisor will warn against overspending just to lock in a credit card signup bonus. I worked around this by putting big group tabs on the card when my friends and I went out and asking my family to use it for bigger expenses, like flights. After I picked up the bill, friends and family simply paid me back via Venmo.
This way, I earned the sign up bonus without altering my monthly expenditure.
Note that the sign up bonus for the Sapphire Reserve has since changed and Chase now offers 50,000 bonus points after spending $4,000 in the first three months.
3. The perks align with my main expense
Besides rent, my biggest expense is travel, specifically airfare. This particular card rewards travelers by doling out an unmatched three times points on travel and dining. Plus, the card comes with access to airport lounges, waives the $100 application fee for Global Entry or TSA Pre-check and has no foreign transaction fees.
Travel is important to me. It's one of my short- and long-term savings goals, and since it will likely continue to play a major role in my life, I want to take full advantage of the rewards available.
Sure, this card isn't for everyone. If you don't travel a lot and aren't a big spender, you won't necessarily reap the card's benefits and offset the fee. But, for me, it's worth it.
Chase Sapphire Reserve Review: Get 100,000 Ultimate Rewards Points
If you're looking to give your Ultimate Rewards point balance a serious boost, consider the red-hot "Chase Sapphire Reserve" credit card.
It's not longer just a rumor (now it's a fact and you can apply today!), and I've got all the important details you need to know about before you fill in the application.
Here's what we know about the new iteration of Chase Sapphire so far ( take with a grain of salt until confirmed ). It is now confirmed!
100K Opening Bonus with Chase Sapphire Reserve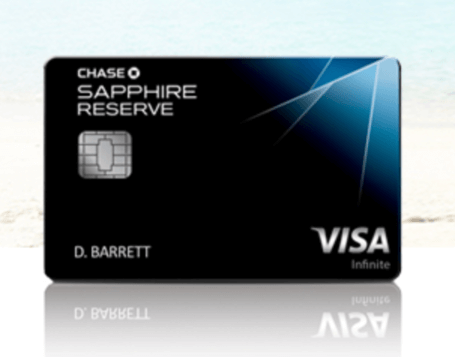 The Chase Sapphire Reserve is a Visa Infinite card that comes with a staggering 100,000 Ultimate Rewards point sign-up bonus if you spend $4,000 during the first three months from account opening.
I was actually kind of worried it might be more than $5,000 considering the mega bonus involved, but I guess the higher annual fee makes up for it.
Fortunately, there are plenty of ways to boost spending to hit the minimum without going broke.
Update: The bonus spend is only $4,000 for the 100,000 UR points, which to me is a steal. I assumed they'd ask cardholders to spend a lot more, but the pricey annual fee may be one reason why.
Chase Sapphire Reserve Comes with a $450 Annual Fee
Does the number $450 ring a bell? Think American Express Platinum and you're on the right track.
The Chase Sapphire Reserve comes with a hefty annual fee of $450 like Amex Platinum, and $75 annually for each additional authorized user card.
All in all, it's pricey and I don't think that annual fee is waived the first year. So if you can't hit the minimum spend you probably shouldn't bother with this card.
If you're patient, there might be an in-branch offer that waives the annual fee the first year, as was done with Chase Ink.
However, I don't think I am going to hold out for something like that because I don't want to deal with the 5/24 rule and miss out entirely.
Besides, I've just finished meeting the spending requirement on a new Chase Ink card that will give me 75,000+ Ultimate Rewards points and I'm ready for something new.
Chase Sapphire Reserve Has a $300 Travel Credit
You can easily offset some (or all) of the costly Chase Sapphire Reserve annual fee thanks to the annual travel credit.
The good news is there's a $300 annual travel credit that you can probably earn twice in 365 days (over two different calendar years) to more than offset the one annual fee.
The big question is what the travel credit can be used toward. If you can buy airline gift cards it's a no-brainer.
If you can only use it for incidentals on flights it might not be as worthwhile. Still, if properly maxed out you could come out $150 ahead if you hit the credit twice in less than a year.
Update: You get a $300 credit annually for purchases in the travel category , meaning it could hypothetically be used for anything from hotel rooms to airfare to even ridesharing purchases like Uber and Lyft. If that's the case this card is a steal!
And the statement credit will apparently post the same day your purchase posts to your account.
Over roughly two years (one annual fee charge) that equates to $150 in free travel and 104,000+ UR points, all for spending just $4,000. That's pretty rad.
Chase Sapphire Reserve Offers 3X on Travel & Dining Worldwide
One great thing about Chase Sapphire Reserve is the bonus categories. We're talking 3X on both dining and travel worldwide , with dining the more interesting one for me. I eat out a lot so it'd be an efficient way to earn lots of UR points.
The only easier way to earn UR points is via Chase Ink and its 5X categories on things like internet, cable, cell phone, and office supplies. But if you had both cards open you could earn a boatload of UR points in a hurry with just plain old everyday spending.
The card is also expected to come with Priority Pass Select, which is airport lounge access that competitors like Citi offer via their Citi Prestige card. And things like a rebate for Global Entry and/or TSA Pre.
So in summary, the Chase Sapphire Reserve appears to be an ultra premium travel rewards credit card with one of the highest sign-up bonuses I've ever seen from Chase, which could be its greatest appeal.
Should You Apply for Chase Sapphire Reserve?
I don't know if most savvy credit card churners would keep this card for more than a year, but I know a ton of them (if not all) would want to get their hands on 100,000 UR points for meeting a relatively low minimum spend.
This card is expected to be rolled out on August 21, 2016 , so we should know in a few weeks if the rumors are all true. And what that pesky minimum spend is…it has been confirmed at just $4,000.
The $300 travel credit certainly makes the annual fee a lot less painful, if not icing on the cake of an already stellar deal.
I noted that I'm waiting because I'm working on a Chase Ink card spend at the moment, and also curious if this bonus could go even higher. Is it possible it could go to 150,000 UR points?
If you're close to Chase's 5/24 credit card cutoff, you may want to wait on applying for other credit cards to see if you can get approved for this special offer first.
My only concern in waiting is if the 100k sign-up bonus is lowered after the initial launch period. There's no indication it will be, but we also don't know if this is some sort of special bonus coinciding with the card's launch.
We could find out in a few months that it was, and that the bonus is just 75,000, 50,000, or some other lower number. I wouldn't wait if you don't have any other cards on your radar, even if it does somehow get better. Besides, Chase is good about matching public offers.
Why I Applied for Chase Sapphire Reserve
Originally I said I was going to wait to apply, but then just bit the bullet and went for it. As I mentioned, I didn't want to deal with the pesky 5/24 rule and keep track of what cards I could open and when.
I doubt anything new will be coming out from Chase anytime soon, other than the Chase Ink Business Preferred, which I have no interest in. So I figured I could use the last of my five applications in two years here.
Additionally, there were no other credit cards on my radar for the foreseeable future, so I decided to just get after it.
We really don't know if the 100k bonus will stick around or not, and it's probably not worth leaving to chance.
No sense in being greedy here if you can get approved and snag the 100k bonus. And if you have travel plans, might as well take advantage of the travel credit while you're at it.
It appears that I'll be using a Chase credit card for just about every purchase now, which is probably their grand plan.
For travel and dining it'll be Chase Sapphire Reserve. For rotating categories it'll be Freedom. For utilities it'll be Chase Ink. Well played Chase…
A Note About the $4,000 Chase Sapphire Reserve Spending Requirement
It seems a lot of folks (including myself) want to know if the travel credit will mean you have to spend more than the $4,000 spending requirement.
For example, if you spend $4,000 during those first three months, but $300 is credited back to you via that $300 travel credit, would that mean you'd have to spend $4,300 to get the bonus?
The answer is no. I asked Chase via secure message and was told the following:
Further, let me assure you that the purchases that earn
the $300.00 travel credit will still count towards to the
minimum spending requirement of $4,000.00 to earn the
Sign-up bonus. However, please know that the $300.00
credit earned from your travel purchases would not count
towards the spending requirement.
In other words, you can hit the minimum spend even if it only costs you $3,700 with $300 being refunded via the travel credit.
I don't think most people would take that chance though…
In general, it's good to err on the side of more to ensure the bonus is triggered if you happen to refund something or miscalculate your spend.
100,000 Sign-Up Bonus Being Slashed in Half
And now some unwelcome news about the 100,000 sign-up bonus. It turns out it was a limited-time bonus.
Come January 12th, 2017, the 100k bonus drops to 50k for online applications, this according to TPG.
However, you'll still be able to apply for Chase Sapphire Reserve in-branch and get 100k points until March 12th.
So if you've been waiting, you might want to pull the trigger here and get that big bonus before it's gone forever.
Tell your friends and family to act quick!
Annual Travel Credit No Longer Calendar-Year Based
The $300 Annual Travel Credit will soon be based on your account open date, meaning you won't be able to double dip on that $300 and come out $150 ahead in the first year.
Instead, you'll wind up in the red if you apply for the card on May 21st, 2017 or later.
This means you should apply for Chase Sapphire Reserve ASAP to benefit from the way the annual travel credit is currently treated.
Put simply, for applications submitted before May 21, 2017, "annual" means the year beginning with your account open date through the first December statement date of that same year.
So if you opened your card in April, you could get $300 through December, then another $300 before the next April hit.
For applications submitted on May 21st, 2017 and later, "annual" means the year beginning with your account open date through the first statement date after your account open date anniversary.
So if you opened the card on June 1st, you'd get only one $300 travel credit through June 1st, 2018 (or around that date depending on statement closing date).
It's essentially a $150 haircut, which combined with the halved opening bonus, makes CSR a more run-of-the-mill credit card, or at least not AMAZING anymore.
Colin created this blog after spending several years in a job that required him to scour credit reports on a daily basis. His goal is to help individuals better understand their credit and get the most out of credit cards. View all posts by Colin Robertson
Chase Sapphire Reserve Card Review
When it first launched in the summer of 2016, the Chase Sapphire Reserve quickly became one of the most talked about premier reward credit cards ever—largely due to its whopping 100,000 points sign-on bonus offer. Worth $1,500 in travel credit or $1,000 in cash back, credit card hounds were abuzz.
Then, at the beginning of 2017, after losing $300 million paying for card rewards, Chase slashed the Sapphire Reserve card sign-up bonus in half, offering "only" 50,000 points, provided customers still spent $4,000 on the card in the first three months.
Despite half the sign-up bonus points, the Chase Sapphire Reserve may still be the best travel rewards credit card for you—beating out competitors like the American Express Platinum, for example.
It's not surprising that many frequent travelers are mesmerized with the Chase Sapphire Reserve, even if it comes with a $450 annual price tag. Just look at all the perks the rewards card offers in addition to the sign-up bonus and $300 in travel credit:
3x points on travel and dining
Free membership to Global Entry (no more waiting in long security lines!)
Free access to airport lounges
A concierge service that promises to "elevate your travel experiences"
Plus, all the best of what you'd expect from a premier card i.e. trip insurance, etc.
The bank didn't scrimp on these perks either. The Sapphire Reserve's $300 annual travel credit is $100 more than American Express Platinum's, and is heralded as much simpler to receive ($300 worth of credit is automatically applied to your balance the second you spend $1 on anything travel related. You don't even have to officially request the reimbursement.) and the points accumulated are easier to redeem, say Reserve card lovers.
There's also the opportunity to redeem points at 50 percent premium when you book travel through Chase's Ultimate Rewards Portal—making the points you earn with this card even more valuable.
We dove into the details on the revised card so you don't have to. Read on to learn more about if you should pursue the Chase Sapphire Reserve card, and if so, how to maximize all the benefits it comes with it.
Chase Sapphire Reserve cheat sheet
Just in case you wanted a quick glimpse of this card's perks and costs, we made a simple cheat sheet for you to follow. That said, with all the bells and whistles this card has, you should read the entire review to figure out if the card is right for you. Ok. Here goes.
Cost: $450 annual fee.
$0 interest charges (assuming you pay your bill in full and on time every month).
Annual Travel Credit: $300 per year. (Making the annual fee feel like $150 per year).
Sign-up bonus: $750 value. 50,000 points (after spending $4,000 in 3 months).
Earn 3 points per dollar on all travel and dining. If you spend $20,000 a year on dining and travel, you'd earn 60,000 points, which is a $900 value.
Earn 1 point per dollar on all other purchases. If you spend $30,000 on other credit card purchases, you'll earn 30,000 points, a $450 value.
Easy to redeem points for rewards on the Chase Ultimate Rewards platform
$100 for Global Entry or $85 for TSA pre-check (good for 5 years).
No foreign transaction fees (saves you $75-$150 every time you leave the country).
Free access to Priority Pass airport lounges
Due to fees, after the awesome sign-up bonus year perks, you'll need to spend $2,619.05 in a cardmember year in order to come out ahead with Reserve.
Worth it? If you travel and dine out often, AND you pay off your balance monthly, then YES, this card is still worth it, despite the cut in points.
The Chase Sapphire Reserve is an ideal card for foodies and frequent travelers with excellent credit who want to earn a free vacation with all of their existing spending on travel and dining.
This card will benefit those with high monthly credit card spends the most, because they'll be able to rack up rewards really quickly—whose combined value far exceeds the $450 annual fee.
So agrees reviewer Robert Harrow at ValuePenguin, who declares the card "good for individuals who can qualify for the ultra-high sign-up bonus, as well as anyone who frequently travels and can use the lounge access + $300 travel credit."
A caveat: This card is only available to those with good to excellent credit scores. Travel hackers who churn through cards for point bonuses will be disappointed to learn of Chase's 5/24 rule: If you've opened five or more credit cards in the last 24 months, you won't be approved for the Sapphire Reserve.
The Chase Sapphire Reserve's best perks
Ultimate Rewards—how to rack up these flexible points
Ultimate Reward points are flexible—making them the ideal reward currency. Here's how it works:
You earn one point for every dollar you spend.
But you'll earn 3 points per dollar on all travel and dining (including airfare, hotels, Ubers, and AirBnB).
So if travel and dining are categories you spend the most on, you stand to earn a lot of points.
These points can be redeemed for a variety of different rewards from cash back, gift cards, or even used on Amazon, all at a one penny per point redemption rate.
So, the 50,000-point sign-up offer becomes $500 cash back or a $500 gift card.
In a comparison to similar cards, ValuePenguin has said that they "consider Chase's Ultimate Rewards program to be the most powerful.
It has a good range of international and domestic airlines, and the world's largest hotel chains. You can also transfer your points to these programs at a favorable 1:1 ratio. That isn't the case with the other programs."
If, however, you redeem your points for travel—the best way to maximize your rewards—points become 50 percent more valuable. So, you'll be able to redeem the 50,000 points for a $750 airfare or a hotel stay. See how the math works in your favor there?
One Reddit user notes that, "before you redeem Ultimate Rewards points, make sure to calculate that you are getting better than 1.5 cents per point. If you are not, then re-evaluate your redemption."
The user goes on to point out that booking through hotel and airline transfer partners could rack up even more than 2.5 cents per point. Nice.
Chase also allows you to combine points with a spouse or partner, as well as combine points from some other Chase credit cards, including Chase Freedom, Chase Freedom Unlimited, Chase Sapphire Preferred, and Chase Ink.
So if you use the Chase Ink Bold card for business, you'll get five percent back on all of your ink, paper, and other purchases at office supply stores.
Then, with the Chase Ink Bold, for example, you can combine those points with the Sapphire Reserve, allowing you to earn rewards even faster.
As Travel Codex points out, "when you combine a Freedom Unlimited with a Chase Sapphire Reserve, each of those 1.5 points per dollar earned on the Freedom Unlimited are also worth 1.5 cents per point when redeemed for travel. That means the combo of those two cards effectively makes the Chase Freedom Unlimited a 2.25% cash back card on all purchases."
Travel Codex also notes that this perk may not last in the long-term as it is not sustainable for Chase. Our recommendation is that if this card sounds good for you, then move fast.
Another favorite benefit that helps offset the $450 annual fee is the yearly travel credit, which will reimburse you with statement credits for $300 worth of travel expenses. This happens automatically on your statement; you don't need to request reimbursement.
For anyone who wants to maximize the value of this card, try getting two travel credits within a shorter time frame. For example:
If you get the card in July, the annual fee will be due on your first statement in August. However, you have until December 31 to use your $300 travel credit.
On January 1, that travel credit will reset, and you have until your next annual fee is due the following summer to use that second $300 credit.
Just with the travel credits alone, you'd be up $150 ($600-$450)!
Compared to the American Express Platinum's $200 travel credit, the Sapphire Reserve's $300 travel credit is easy to understand and easy to use.
AmEx requires cardholders to declare an airline at the start, and they can only request reimbursement for certain expenses from that airline (and that doesn't include purchasing airline tickets).
That's definitely not the case with the Chase Sapphire Reserve card. You don't even need to request the $300 —it just shows up as a credit on your statement after you spend $1 on something travel related. Yes, please.
In some cases, cardholders have reported getting reimbursed for ordering food on Uber Eats because Uber counts as a travel expense.
The Chase Sapphire Reserve card is, in my opinion, the new best luxury credit card offering that is available to the masses.
With such an easy way to get cash back for using your credit card on travel, it's no surprise that travelers love the card. A breakdown and comparison of similar cards by Caroline Lupini, a reviewer at Frugal Travel Guy, makes it clear that the Sapphire Reserve card is a superior choice. "The Chase Sapphire Reserve card is, in my opinion, the new best luxury credit card offering that is available to the masses."
A 50% bonus on travel redemptions
Chase has a beautiful and easy-to-use Ultimate Rewards interface that links to their credit card site.
Just click "go to Ultimate Rewards" when you log into your Chase credit card account online.
You'll be redirected to your rewards dashboard, which tells you how many points you have, how to redeem your points, and how much of your annual $300 travel credit you've used so far.
When you book travel through the Chase Ultimate Rewards site, your points will be worth 50% more by using the Sapphire Reserve card (and you'll earn airline miles or hotel points at the same time). So if you have other Chase cards, make sure you transfer all the points onto the Reserve card before redeeming for travel.
Here's how much you'll save when you book your next getaway for you and your partner through the Chase Ultimate Rewards portal:
A night in a hotel for $150 would only cost 10,000 points ($100 value).
A flight for $450 would only cost 30,000 points ($300 value).
A packaged vacation that would normally cost $1,500 for hotel, airfare, and would only cost 100,000 points ($1,000 value).
We love math when it works in our favor.
Plus, if you belong to the hotel or airline's own loyalty programs, you can still earn their hotel points or airline miles when redeeming Chase Ultimate Rewards (even when you aren't paying out of pocket for your reservations). This rewards double-dipping could help you earn status on a hotel or airline of your choice.
There are no blackout dates for Chase Sapphire Reserve card points
Unlike booking plane tickets with airline miles, you'll be able to redeem points as long as there's a seat available on the flight you want. The Points Guy has postulated several different ways to redeem those Ultimate Rewards points for travel, citing the Chase Sapphire Reserve card as "one of the most exciting credit card products to hit the market in some time."
However, some commenters at Travel Codex have pointed out that the redemption portal's deals can vary and they may not always net you the best price.
One user, Julien Pierre, noted: "I have found better prices on some flights elsewhere. For example, just a week ago, I booked [on Expedia] for 447 euros, which came to $504 on a card with no foreign transaction fee. The exact same flight booking through Chase Ultimate Rewards was $564, a rather significant difference."
Redeeming travel: Ultimate Rewards Center vs. Travel Partners
You can redeem Chase Sapphire Reserve points by transferring them to travel partners such as United MileagePlus, Southwest Airlines, Hyatt, or Marriott Rewards.
This is an important feature to note because sometimes it is a better value to transfer points to a travel partner instead of redeeming directly through the Ultimate Rewards Center, even though you won't get the 50 percent bonus on your points redemption. For example:
Go to Cancun and save 22,000 points - If you want to book two roundtrip flights from the U.S. to Cancun and you find a deal for 14,000 Southwest miles per roundtrip ticket, ($140 worth of points) or $375 cash per roundtrip ticket, then you should book using Southwest miles because it's a better value.
Start by transferring 28,000 Chase Ultimate Reward points to 28,000 Southwest miles.
Then book through the Southwest Airlines website using miles (you'll still have to pay the taxes on the ticket).
Otherwise, for 2 RT tickets at $375, you'd pay $750 cash or 50,000 points when redeemed through the Ultimate Rewards Center (a savings of 22,000 points). Thank us later!
Save thousands with "open-jaw" flights to Europe - If you want to go to Europe in the summer and travel around, then be prepared to pay flights are generally $2,000-$3,500 roundtrip. Keep the cash and instead use 60,000 United miles to fly roundtrip from the U.S. to Europe. With United, you can fly "open-jaw" (which means into one city and out of another city) and you'll get a free stopover (like a layover for several days as opposed to several hours).
Start by transferring 60,000 Chase Ultimate Rewards points to 60,000 United MileagePlus Miles. Here in lies the beauty of the card. Your points don't lose any value when you transfer them to other mileage-travel programs.
Then, search economy fares on the United website. You could book a roundtrip flight from New York to Barcelona for 60,000 miles, but if you call the United customer service line, you can utilize the "open-jaw" and free "stopover" features to fly. For instance, in airline speak, you could JFK to BCN, LIS to JFK while using a free stopover in MAD all for 60,000 miles (you will have to pay airport taxes and fees).In plain English, this means that for 60,000 miles instead of approx. $3,000, you'll fly from New York to Barcelona, Spain and back to New York from Madrid, Spain, while enjoying a lengthy stop off in Lisbon, Portugal. To pull this off, you'll have to separately buy flights from Barcelona to Lisbon and from Lisbon to Madrid. But these "local" flights are usually much more affordable to buy separately than as part of multi-leg ticket with United. Who wouldn't want to stay in a few Iberian capitals for a few nights before jetting off back to New York? Especially if it's on a free ticket?
You and your traveling companions will also gain access to over 900 airport lounges that offer pre-flight free WiFi, snacks, and beverages all over the world, including 40 in the United States. You need to log online or call to request your Priority Pass Select Membership (valued at over $399), and they'll send you a separate card that can be used for you and a guest.
"How is this magic possible?" you may ask. Simple. To make sure you get it right, listen to Gary Leff, a writer at the travel blog, View from the Wing. Leff writes, "The Priority Pass benefit doesn't get triggered automatically when you get a Sapphire Reserve Card."
Uh oh. Sounds ominous. But again, it's like Chase actually wanted to make your life simpler and makes the steps super simple and accessible. Leff explains:
Just log into the Chase website, and where you see your card account, select "Go To Ultimate Reward."
From there, choose "Use Points"
At the bottom of that menu, choose "Card Benefits." You'll see a box with the headline "Airport Lounge Access."
Click "Activate now" on the Priority Pass Select benefit, and they will mail you your card in a few weeks.
Those with regular Priority Pass memberships have to pay $27 for each guest, so the Reserve will save you money if you tend to travel as a family or with friends.Thanks, Gary!
Discounts on car rentals and hotels
Thanks to the Sapphire Reserve's partnership with National, Avis, and Silvercar, cardholders receive discounts on car rentals. Visit the Chase Ultimate Rewards site to see what's in store for you. Plus, if you pay for your car rental with your Sapphire Reserve card, you'll receive primary auto coverage, which includes reimbursement up to $75,000 for theft and collision damage for most rental cars in the U.S. and abroad. So you can decline the rental car insurance—and save on those extra fees. You can also transfer your Ultimate Rewards points to some hotel loyalty programs without losing the value of the points.
Avoid foreign transaction fees
You'll avoid foreign transaction fees when using this card abroad. If you're traveling abroad, the savings can add up since most cards have a three percent foreign transaction fee. So if you spend $4,000 while in Europe, you'll save $120 in foreign transaction fees by using this card.
Just remember to pay in the local currency, as Million Mile Secrets notes: "If you choose U.S. dollars instead of the foreign currency, you'll pay extra, in addition to the exchange rate and the foreign transaction fee charged by the bank."
Cardholders also get 24/7 customer service access (no sitting on hold!) and worldwide travel assistance. They won't book multi-leg flights for you to Europe (you'll have to still go direct to the airlines), but they will help get you access to medical service, and a concierge to help make dinner reservations, theatre tickets, and more.
How much will the Sapphire Reserve card cost you?
Like anything in life, nothing is for free. This card comes with an intimidating bouquet of fees to think carefully about.
The annual membership fee is a steep $450 (it's the same fee as the Amex Platinum, if you are comparing apples to apples). Once you add in your travel credit of $300, however, you're only looking at a $150 annual fee. While the sign-up bonus and credit for TSA/Global Entry registration are one time rewards, the rest of the perks refresh each year.
This chart from ValuePenguin offers a comprehensive breakdown:
If you need extra cards for members of your household, each additional card costs $75 per year.
Pro tip: Instead of adding a spouse as a cardholder, have him or her apply for this card as well so that you each earn the introductory bonus offer. Double the bonuses!
This card has a hefty interest rate
If you are going to carry a balance, this card may not be the right choice for you.
You don't want to carry a balance with this card, since the interest is high.
This is how Chase hopes to come out on top. As a commenter on Travel Codex mentions,
"They are asking you to spend $4,000 in 3 months on the card. They are banking on a good portion of those people who sign up to rack up some debt, and make some good profit." That assessment is probably right. Plus, you'll be charged $450 each year you carry this card—even though the 50,000-point sign-up bonus is only valid the first year. Cynically put, the sign-up rewards of the card bottom out after the first year, while the interest rate on any balance you hold does not.
If you already have a card with a high balance, don't think about transferring the balance onto the Chase Sapphire Reserve. It doesn't offer any 0% introductory APR offers. (Use the Chase Slate Card for that, since it offers 0% interest for 15 months and no balance transfer fee if you transfer the balance within the first 60 days).
Pay your bill on time, or else with this card
If you pay your credit card bill late, you'll incur higher late payment fees than on other cards:
$15 if the balance is less than $100
$27 if the balance is $100-$250
$37 if the balance is $250 or more
$37 for a return payment fee
Don't use the Reserve for cash back
Don't take out cash using this card. Use your debit card instead. Taking out a cash advance will cost you a whopping 25.49 percent interest.
To make it easier to understand all the fees, here's a breakdown.
I spend $2,000 and I pay it in full by the due date. = $0. You'll avoid all interest. Well done.
I transfer $5,000 from one card to the Reserve. Get ready to pay $250 (You'll be charged 5% to transfer the balance) plus interest if you don't pay your balance in full by the due date.
I take out $1,000 as a cash advance from an ATM using this card = $254.90 (that's the 25.49% cash advance fee) plus interest if you don't pay your balance in full by the due date.
Which is better? Sapphire Reserve vs. the Sapphire Preferred
But, if you aren't much of a traveler and don't dine out all that much, you may want to consider the Sapphire Preferred card instead. The Preferred has an annual fee of only $75 —but with the reduced annual fee comes fewer rewards. The Sapphire Preferred offers 2x points on travel and dining worldwide as opposed to 3x points you'll get for using the Reserve.
So, if you spend $330 on food and drink each month, which is what most Americans do, according to a recent Gallup poll, you'll only get 7,920 points with the Preferred and 11,880 points with the Reserve each year. That's 4,000 more in points, which on the Reserve can be redeemed for $40 in cash or $60 in travel redemptions through the Chase Ultimate Rewards portal.
Before choosing between the two cards, examine your annual travel and dining expenditures. But note, if you're even interested in these premier cards, you probably spend more than the average American on dining and travel.
As The Points Guy breaks down on his blog, for someone who spends $2,000 a month of dining and travel, he or she will earn 24,000 more points by using the Reserve, which is valued at $504. In this case, the Reserve is the way to go.
Speaking of the Ultimate Rewards portal, travel booked through the portal is discounted 20 percent with the Preferred, as compared to the 50 percent bonus you get with the Reserve. And the Preferred doesn't offer the added travel perks like airport lounge access or TSA Pre-Check of Global Entry.
What do people love about the Sapphire Reserve?
Unlike most rewards cards that make you use the issuer's travel agents to book a rewards-funded flight or hotel room, Chase lets you book your travel yourself and have it refunded, says Connor Wrenn, a credit card and personal finance expert. That way, you can shop around for the best deals when you book travel and still receive the $300 annual travel reimbursement.
3x points on travel and dining spending
Road warriors who travel often for work will benefit the most from the 3x points on travel and dining spend, says Neel Hajare, a credit card points and miles enthusiast. "If you're comparing this to the Chase Sapphire Preferred card with a $95 fee (the fee for this card is $150 as described above), you'd only have to spend $5,500 per year on travel and dining to break even when considering trading up (and this is ignoring all of the other perks)," explains Hajare.
Extra travel perks like free airport lounge access
If you regularly travel economy, you'll especially enjoy the Priority Pass™ Select membership that offers no limits on free guests in your travel party—saving you as much as $50 per person (entry prices vary per location)! The Amex Platinum card, meanwhile, charges $27 per guest for lounge access.
Another lauded feature of this card is that they have human customer service readily available for any customers who choose to call their help line. For many people, this is a major perk for many different reasons.
What are the Sapphire Reserve's weaknesses?
While the annual fee is comparable to other high-end credit cards like the Amex Platinum, for someone who doesn't travel much, the $450 may be a deal-breaker if not using the travel perks (free airport lounge access, $300 travel credit) that come along with the card.
The first-year perks may make the Sapphire worthwhile in the short-term, but as The Points Guy calculated for subsequent years, "you'll need to spend $2,619.05 in a cardmember year in order to come out ahead with Reserve." You'll also have to watch your balance (don't have one) and avoid any fees to make sure that this card keeps paying off.
If you don't have good credit—or you've opened up too many Chase credit cards in the past year—you likely won't qualify for the Sapphire Reserve. As NoobTraveler points out, "Chase has a policy called the '5/24 Rule' that they use as part of their criteria when determining whether to approve or deny applicants for any of the Chase family of credit cards… any applicant that has been approved for 5 credit cards within the previous 24 months is automatically declined."
To access airport lounges for free, you need to request a separate card
This benefit isn't automatic with the credit card —you'll need to log online or call Chase to request your Priority Pass lounge membership card. Do so well ahead of your next trip, so that it arrives on time. See our section, "But wait! There's even more travel rewards to explain" on how to do this easily online.
However, you may still be able to get some benefit if you can't wait for the card, as one Reddit user noted, "I called in and asked if I could get my membership ID so I could use it before the physical card got to me. I was told that they couldn't do that, but they would credit me back up to $40 a day in lounge fees so that I could utilize the benefit before getting the card." That's customer service.
Make sure your preferred airport lounges are included in the Priority Pass network
The Amex Platinum card gives you access to Delta Sky Club, Centurion Lounges and Priority Pass Select—far more options than the Chase Sapphire Reserve, according to Robert Harrow on Value Penguin. "The Reserve doesn't give you access to United Clubs or American Admirals Clubs."
Most common complaints about Chase Sapphire Reserve?
We dug around popular blogs, Reddit, and other forums to find questions most consumers had about the Chase Sapphire Reserve. Most of them have to do with the qualifications needed to get this rewards card. But many others asked about security, fraud, and insurance protections offered by the Reserve. We answered many of the biggest below.
Can I get the Chase Sapphire Reserve if I have bad credit?
No. The Reserve is only available to those who have good credit (700 or above).
I'm planning a trip. Does the Sapphire Reserve offer any rental car coverage?
If you pay for your car rental with your Sapphire Reserve card, you'll receive primary auto coverage, which includes reimbursement up to $75,000 for theft and collision damage for most rental cars in the U.S. and abroad.
Does the Sapphire Reserve offer any trip cancellation coverage?
Yes. If your trip is canceled or cut short by sickness, severe weather or other covered situations, you can be reimbursed up to $10,000 for prepaid, non-refundable expenses such as flights, tours, and hotels.
Are there any foreign transaction fees?
No. This card does not charge foreign transaction fees, if the currency is not in USD.
What about if the airline loses my luggage?
Sapphire Reserve cardholders are covered for up to $3,000 per passenger if you or your immediate family members' checked or carry-on bags are lost or damaged by the airline. You can also receive up to $100 a day (up to five days) to purchase essentials like toiletries and clothing if your baggage is delayed for over six hours.
Does the Sapphire Reserve offer any purchase protection?
Yes. New purchases paid with the Sapphire Reserve are covered against damage or theft for 120 days (maximum $10,000 per claim and $50,000 per year).
What happens if the price of an item I buy decreases?
Within 90 days, you can be reimbursed the difference, up to $500 per item. If a retailer refuses to accept a return within 90 days, you can be reimbursed for up to $500 per item.
Does the Sapphire Reserve offer extended warranty protection?
Yes. The Reserve extends the warranty by an additional year on most items.
What are some of the additional features I should be aware of?
The Sapphire Reserve is a heavyweight metal card that offers advanced chip technology, and features security and fraud alerts.
Can I cancel this card at any time?
Yes, just call the customer service number on the back of the card. You may want to request that your credit line be moved to another Chase card you own, or else closing the card can temporarily ding your credit score.
Great card for frequent travelers despite hefty annual fee
This card is a great fit for frequent globetrotters with excellent credit who will maximize the perks offered by this card while also racking up more points on their high travel and dining expenditures.
However, even if you're not a heavy credit card user and only use this card for travel and dining purchases and decide to cancel it after a year, you can still cash in on some killer rewards.
For Example: If you get this card and keep it for a year and spend $10,000 on dining and travel:
If you did all the things listed above, you would have received $1,600 in travel rewards for the first year using the card. So… Minus the $450 annual fee… Congrats, you just netted $1,150 in travel rewards!
Any credit card that pays YOU money is worth a serious look. Should you go for it, then just like always, be smart about paying the card off and keeping that credit score pristine. Happy travels!
Sign up for our FREE weekly newsletter to get the financial tools and advice you need to grow your bank account.
Your information is 100% secure with us and we will never share it with anyone.