New Costco credit card rewards have arrived
Posted on March 29, 2016 9:55 am
By Joel Larsgaard, ClarkHoward.com
The moment that tens of millions of Costco members have been waiting for is here. Details are finally in about the specifics of the new Costco Visa credit card. And the wait has been worth it. The cash back offerings make this card far superior to the old American Express offering.
Costco Wholesale will begin taking the Costco Anywhere Visa Card starting June 20th. Costco will also be accepting any and all Visa credit cards as of that date. American Express cards will no longer be accepted after the switch but will be accepted until then. Costco has also noted that the swap will be relatively painless on it's customers. Cash back rewards on all eligible purchases will transfer seamlessly to the new card from Citibank. The reward check from both cards will be enclosed in February credit card statements.
If you are a current Costco American Express cardholder you will receive information through the mail in April. The new Visa card will arrive in your mailbox in May or June. And don't worry, Citi will not be pulling your credit report before issuing the new card.
Costco lovers were certainly worried when the breakup with American Express was announced. No-one knew if the rewards on the new Citibank backed card would be as generous. But they are actually far better.
4% back on gas for the first $7,000 spent per year. You'll get 4% back when filling up your car at Costco or any other gas station. American Express only offered 3% and capped your cash back at $4,000.
3% back on restaurants and travel. The current Amex card offered 2% back on these spending categories.
2% back at Costco! American Express only offered 1%. If you shop at Costco a lot, an extra 1% back on all of your purchases is huge.
1% back on all other purchases. This is the only category that remains the same.
To check out the full details of the new Costco Anywhere Visa Card you can head over to Citi's website. The card does not have an annual fee but you will need a Costco membership to use it – which starts at $55 a year. If you go to the bottom of the web page you will see scrolling bars where you can calculate how much cash back you'll receive thanks this new generous offering.
This card is a winner especially if you spend a fair amount on gas, travel and restaurants. Keep in mind though, the rewards come in the form of a Costco coupon that can be redeemed for merchandise or cash at Costco stores. If you are already someone that uses the Costco Amex in the store and on other purchases, your cash back status just got a little brighter.
What are the Main Perks for Owning a Costco Visa Rewards Card
Costco Anywhere Visa rewards credit card is the new credit card introduced by Costco through Citi bank. Costco officially ended its relationship with American Express and stop offering the Amex Costco card since the middle of last year. The new card is may be more appealing and carry some better features compared to the old Amex card. Even though it does not offer any big signup bonus, it is still a valuable rewards card for consumers as it has a great rewards program.
Costco Anywhere Visa rewards credit card provides 4% cash back for up to $7,000 on gas. After you exceed $7,000, you will still earn 1% cash back on gas. Only gas purchased at the local petrol station will earn 4%. Gas purchased at other places like the supermarket and shopping center will only earn 1% cash back. When you use the card for food and travel expenses, you will get to earn a cash back of 3%. Any purchases made with Costco Visa rewards credit card at a local or online Costco store will earn you a 2% cash back. All other purchases will earn you a 1% cash back.
The cash back that you have earned can be exchanged as coupon that you can use to redeem for any item at a Costco store in the USA. They will automatically send you a cash reward certificate every February. To have the coupon mailed to you, you must remember to redeem it on the 31st December. Closing down your card before February can also cause all your accumulated points to become missing. Costco Anywhere Visa credit card and all other Citi cards offer the Private Pass feature which allows you to buy tickets to concerts and sports tickets when it is sold out.
The card has no annual fee but it does require you to become a member of Costco to be qualified for getting the card. There are several types of Costco memberships and the cheapest will cost only $55 annually. You can signup for the Costco membership at the Costco site. The cash back will make the card worthwhile even with the membership fee if you regularly use it to spend on gas, restaurant and travel. Costco Anywhere Visa credit card is accepted by any merchant that accepts Visa card around the world.
Costco Anywhere Visa rewards credit card comes with a purchase protection against damage & theft where you get a full refund if the recent purchases you made get damaged or stolen within 120 days. If you are from New York, the damage & theft purchase protection will only offer coverage for 90 days. Everything that you purchase with the Costco card will also be covered with an extended warranty.
Best Credit Cards to Use at Costco
This post contains references to products from our advertisers. We may receive compensation when you click on links to those products. The content is not provided by the advertiser and any opinions, analyses, reviews or recommendations expressed in this article are those of the author's alone, and have not been reviewed, approved or otherwise endorsed by any bank, card issuer, airline or hotel chain. Please visit our Advertiser Disclosure to view our partners, and for additional details.
The recent news about Costo accepting Visa credit cards exclusively may change the way Costco shoppers spend. Shoppers now have more options for credit card rewards for their Costco purchases. These are the best cards to use at Costco, now that they accept Visa credit cards.

If you're a Costco member, by now you've heard that Costco will begin accepting Visa cards this summer and no longer accept American Express cards. At the same time, Costco Amex cardmembers will also be transitioned to new Visa cards from Citi.
What are the benefits of the new Citi Costco Visa cards? Up until today that was a mystery. But finally, we know the details and quite frankly, they're a pleasant surprise.
The new Costco Anywhere Visa Card by Citi, available beginning June 20, 2016, will earn:
4% cash back on gas worldwide for the first $7,000 per year, then 1% after
3% cash back on restaurant and eligible travel purchases worldwide
2% cash back on all other purchases from Costco and Costco.com
1% cash back on all other purchases
Costco Anywhere Visa Card by Citi vs. Costco Amex
Compare that to the current Costco Amex, which earns 3% on gas, 2% at US restaurants and travel, and 1% on everything else and the new Costco Anywhere Visa card is clearly a step up.
Similar to the current Costco Amex, cash back will be provided annually as a rewards coupon redeemable for cash back or merchandise at Costco. The rewards coupon will be included in your February billing statement and expires on December 31 of the year it was issued.
The Costco Anywhere Card will also double as your Costco membership card. And if you currently charge your Costco membership fees automatically to your Costco Amex, these fees will continue to be automatically charged to your new Costco Anywhere card.
Transitioning your Costco Amex to the Citi Costco Anywhere Visa
Existing Costco Amex cardmembers should expect their new Costco Anywhere cards to be mailed in May. There is no need to apply for the card and your credit report will not be pulled as part of the account transition.
Through June 19, 2016, you should continue using your Costco Amex. On June 20, 2016, start using the new Costco Anywhere card and destroy your old card. Additionally, you can visit citi.com/CostcoSetup to register your account for online access.
Costco Business cardholders enrolled in American Express' Membership Rewards program will require a separate American Express account to maintain their rewards after June 20, 2016.
The new Costco Anywhere Card does not have an annual fee with your paid Costco membership. For more information on the card, see this link.
Which credit cards are accepted at Costco?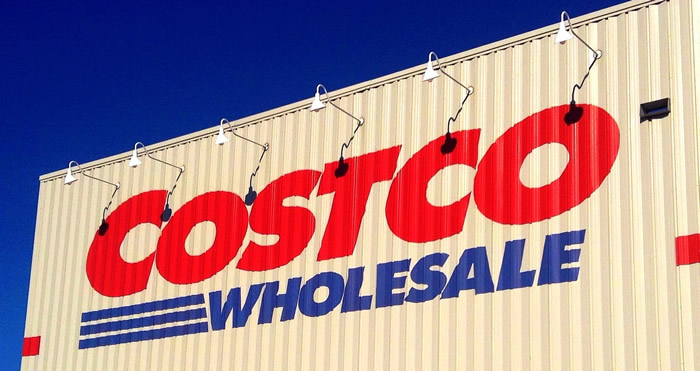 The partnership between Costco and American Express came to an end in late 2014. Starting January 1, 2015 Capital One took over as the sole issuer of Costco branded credit cards which bare the MasterCard logo. There's still some confusion about which credit cards are accepted at Costco's 89 Canadian warehouse locations.
Cards Accepted at Costco Warehouses
As of 2015, the following credit cards are accepted at all 89 Canadian Costco locations:
MasterCard
Debit Cards (includes Visa debit cards)
Costco Cash Cards
Note: Visa credit cards are not accepted at Costco warehouse locations
Cards Accepted Online at Costco.ca
MasterCard
Visa Credit Cards (Visa debit cards not accepted)
Costco Cash Cards
Payment Options for Costco Gas Stations
MasterCard
Debit Cards (includes Visa debit cards)
Costco Cash Cards
Note: Cash is not accepted at Costco gas stations
How to Use Visa Credit Cards at Costco Warehouse Locations
Visa credit cards are not accepted at the warehouse. However, there is a loophole. You can use your Visa credit card to buy Costco Cash Cards at Costco.ca. The Costco Cash Cards can be used at the warehouse, gas stations, or even online.
This is a great way to take advantage of earning reward points with your Visa credit cards on Costco warehouse purchases.