Save Thousands of Dollars in Credit Card Payments with a Phone Call – Here's How
Credit-Land.com is an independent, advertising-supported web site. Credit-Land.com receives compensation from many credit card issuers whose offers appear on our site. Compensation from our advertising partners impacts how and where their products appear on our site, including, for example, the order in which they may appear within review lists. Credit-Land.com has not reviewed all available credit card offers in the marketplace.
How One Phone Call Saved a Chase Credit Card Customer $10,000
Updated: April 26, 2013
Kate is a friend of mine who recently went through a divorce. She has two young children, and after years as a stay-at-home mom, she found herself on her own, in debt, and struggling to keep up the payments on her credit cards. For a while she made the minimum payments, but when she found that she could no longer afford them, she simply stopped paying anything at all. She didn't answer the phone, didn't open her mail, and deleted emails without reading them.
Why did she do this? Simple. She didn't know what else to do.
Kate isn't the only one who has ever stopped making payments on a credit card or avoided phone calls from creditors – in fact, with the recession only just behind us, many people are faced with piles of debt that they can't pay. For these people, is there any alternative to declaring bankruptcy?
You might be surprised to hear how Kate managed to get out from under her debt and create a manageable, affordable payment plan with the help of her credit card issuer – Chase, in her situation – and without calling credit card counseling services or lawyers. Here's what she did – and what you can do too, if you find yourself in a similar situation to Kate.
Kate knew that she needed to call her credit card issuer, but she was nervous. She didn't know what to say. So the first thing she did was take a look at what she owed, what she was spending, and what she was earning, and write it all down.
You can do this online or on paper – either pull out those unopened statements and look at them, or log into your account and take a look at the total. You'll need to write down some basic information before you pick up the phone. Here's what you should know before you call:
How much do you owe this credit card issuer? Write down the total.
How much money are you making each month? Include all your take-home income, not counting tax withholding.
What are your monthly expenses? You'll need to have a rough idea what you're spending on housing, utilities, groceries, childcare, gas, and other necessities – your credit card issuer will use this to help determine how much you can afford to pay each month.
What led you to your current situation? Whether you are unemployed, dealing with illness or disability, in the middle of a divorce, or simply in over your head from careless spending, have an idea what you want to tell your credit card issuer – maybe even practice saying it out loud. Remember, you are not the only person who has dealt with a situation like this, so don't be afraid to be honest about your circumstances.
Take a Deep Breath and Pick Up the Phone
This is probably the hardest step, so take a big breath and just do it! Be ready to spend some time on the phone – get comfortable, try to be in a quiet place where you can concentrate, don't chew gum or eat, but keep a big glass of water next to you in case your mouth gets dry. You can do this!
Before you call, make sure you have your card, or your account information written down where you can easily find it, and keep your notes close by. It's also a good idea to have your checking account information handy, including your account number and routing number, in case you want to set up automatic payments with your card issuer.
You may need to navigate a few menus to get to a customer service representative, and once you do, you might be transferred a couple of times. Be prepared to tell your story a few times until you get to the right person. In Kate's case, it was a Chase Payment Solutions representative, who told her about Chase's Balance Liquidation Program.
The Chase representative asked Kate what she was making, what her expenses were, and what she thought she could afford to pay each month. She then offered Kate a lower APR and a low monthly payment, with the stipulation that automatic payments would be set up and must not be missed, or else the agreement would be nullified and she would be in default.
The whole call took about twenty minutes, and there were times when Kate was on hold, or had to listen to the representative read off terms and conditions, and she had to be recorded agreeing to the Balance Liquidation Program.
How much did Kate save in less than a half-hour, with one phone call? Almost $10,000.
10K Saved Over Five Years – the Nitty-Gritty
Here are the terms Kate was offered (and remember that your experience will vary – this is just an example).
She was carrying a balance of $4,600 – over her limit of $4,500 – at a penalty APR of 29.99 percent, because she hadn't made payments for about three months. Before the penalty APR, she had an ongoing APR of 13.24 percent, which she was hoping Chase would reinstate if she pleaded her case. After explaining her circumstances, Chase did even better, offering her an APR of just SIX PERCENT, with budget-friendly payments of $90 per month. Before, the monthly payments were about $170.
At that 29.99 APR, it would have taken Kate 20 years to pay off her balance, and she would have paid a total of $14,939. With the six percent APR, Kate will pay off her Chase card in full in five years (60 payments) and pay a total of $5,400.
Even better, if Kate finds that she's able to pay more than the minimum each month, she'll pay off her balance even faster, with no penalty. She won't be kicked out of the program if they see she can afford to pay more – one of the things she was concerned about. As long as she makes the monthly payment each month (it's automatically withdrawn from her checking account, on a date she got to choose herself) she'll be in the program and be on track to get out of debt.
Another thing Kate was concerned about was her credit score. She knew that her formerly excellent credit was already damaged from her lack of payments, but she was worried that the Balance Liquidation Program would hurt it even more. She knew that filing for bankruptcy or settling with her credit card company would be reported negatively on her credit history, and she wanted to avoid that.
Good news – participating in a program like this won't hurt your credit (though it's always a good question to ask your customer service representative, as programs do vary). Kate's Chase representative reassured her that no negative information would be reported to the credit bureaus, and in fact, after several months of regular payments, her credit history would start to improve.
Of course, not everyone's story will be the same as my friend's. Everyone's circumstances are different, and all credit card issuers have different policies. However, the valuable lesson to take away from Kate's story is that credit card issuers do usually want to work with their customers to help them get back on track and pay off their debt.
Don't be afraid to pick up the phone and just talk to your credit card company. The voice on the other end of the phone belongs to a person who may have been in a similar situation, or who is eager to help you. Be polite but firm, patient but persistent, and you might be surprised what you are offered.
Picking up the phone saved Kate almost $10,000, and gave her priceless peace of mind.
Review and Apply For Chase Credit Card Offers
Chase offers a variety of credit cards to fit your needs. Each card has something different to offer and when you use this site you will be able to compare the cards that are available and find the one that is right for you. Chase strives to make sure that their customers have plenty of options because they understand that everyone has needs that are different and the goal is to find a credit card that is going to work best for you. The site is fairly easy to use and all the information that you will need will be located on the site to help you with your decision making process. Below is a guide on how to review and apply for your very own personal Chase Credit card online.
Required to Review and Apply For Chase Credit Card Offers:
Computer or Laptop with access to the internet
Valid Email
Other personal information
Steps toReview and Apply For Chase Credit Card Offers:
Copy and paste the following URL into your browser or if your system allows click the link we have provided here: www.chase.com/creditcards
A new page should load. Click on "get started".
Here you need to choose whether or not you will be looking for a business card or a personal card. Click on the appropriate option for you.
Once you choose a new page will load. Choose the type of feature you are most interested in.
On this page you will be able to see all the different credit cards that are offered. You will want to look over them to see which ones you are interested in. This will allow you to see the different options that are offered and what special features you get with that particular card.
You can compare several cards to see which one is really able to offer you what you are looking for.
Follow the directions on the site and apply for the card of your choice. When you are finished applying you will know whether or not you have been approved. If the decision has not yet been made then you will receive something in the mail that will let you know what the final answer is. That is all. The site really explains itself so just keep following directions and you should be fine.
Chase Sapphire Reserve℠: Is It Worth Applying For?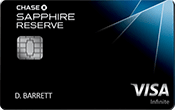 Despite having a $450 annual fee, the Chase Sapphire Reserve℠ is a worthwhile investment. The card provides industry-leading rewards on travel and dining purchases. In these categories, the card can net users a 4.5% rewards rate. As a luxury travel card, it provides decent lounge access. However, it still doesn't best some of its other competitors on this front, namely The Platinum Card® from American Express.
Individuals who can qualify for the ultra-high sign-up bonus
People looking for a Chip & Pin credit card to use in Europe
Anyone who frequently travels and can use the lounge access + $300 travel credit
Those looking for a lot of brand-exclusive perks and elite status with hotels
Chase Sapphire Reserve℠ Review: Is It Worth $450 Annually?
The Chase Sapphire Reserve℠ is easily one of the top travel credit cards. It gives far more rewards than current favorites like the Chase Sapphire Preferred® Card or the Barclaycard Arrival Plus™ World Elite MasterCard®. The only catch is the card's $450 annual fee. However, if you use all this card has to offer, you will come out ahead despite the hefty fee. The Chase Sapphire Reserve℠ is marketed toward the same people who'd apply for The Platinum Card® from American Express. On that end, it's also very competitive. The card comes with a high $300 annual airline credit and the standard airport lounge access we'd expect. The Platinum Card® from American Express has slightly better lounge access, because it includes Delta Sky Club® and Amex's Centurion lounges.
Most other credit cards that try to serve two functions end up being average. They fall into the 'jack of all trades, master of none' category. The Chase Sapphire Reserve℠ is an exception, in that it excels as both a luxury card and as a rewards credit card.
The early spend bonus on the Chase Sapphire Reserve℠ is one of the highest we've seen on any offer. You earn 50,000 Ultimate Rewards (UR) points after spending $4,000 on purchases within the first 3 months of card membership. When those points are used to book travel through the UR portal it works out to a value of $750. For context, we rarely see bonuses exceed $500 in value.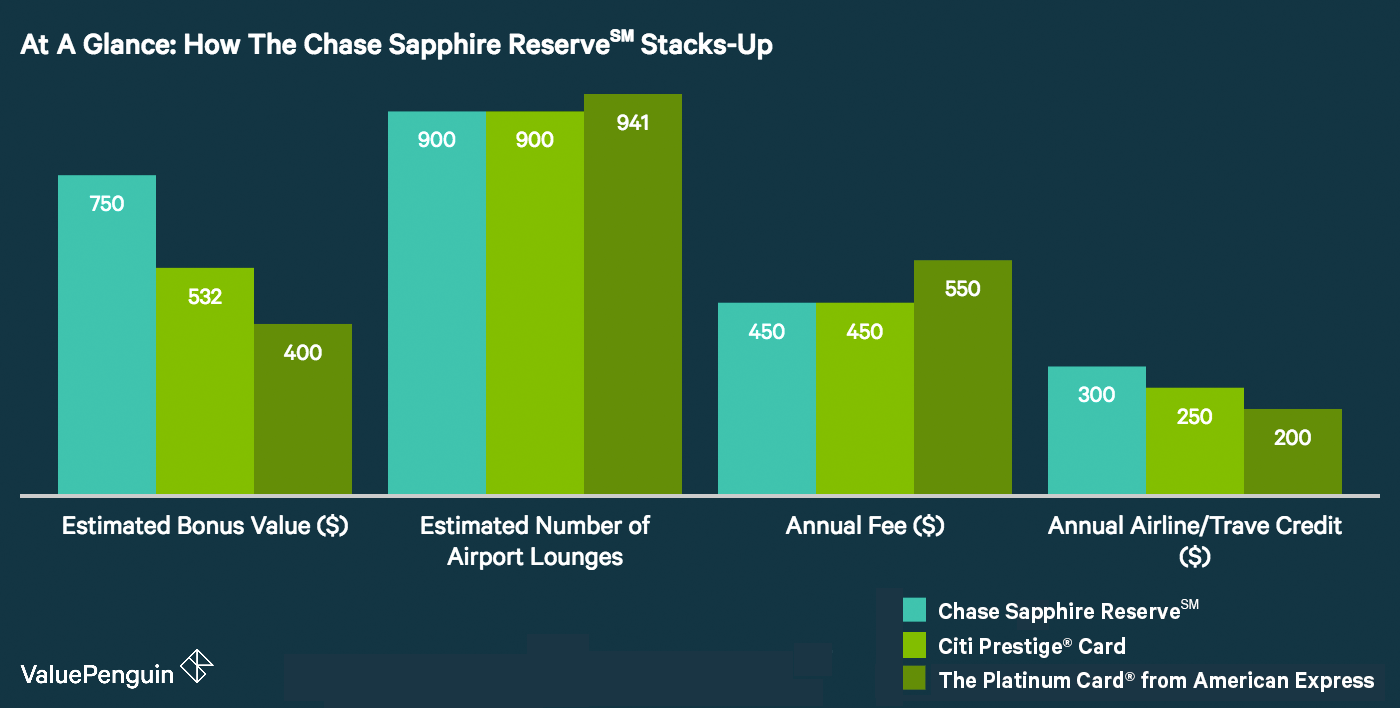 Bottom Line: We highly recommend the Chase Sapphire Reserve℠ to anyone who travels frequently and is a big spender. The card is especially good for anyone who can take full advantage of its $300 airline credit and airline perks.
Chase Sapphire Reserve℠ Benefits & Features
The Chase Sapphire Reserve℠ is a hybrid between rewards and premium credit cards. When it comes to day-to-day rewards, the card provides users 3X points on travel and dining at restaurants, and 1X points everywhere else. Together with the 50% bonus on Ultimate Rewards redemptions, we calculate the rewards rate on the Chase Sapphire Reserve℠ to be between 1.5% and 4.5%. The value a single point earned through the card can be worth $0.015 when utilizing the 50% bonus. The card also comes with a sizable bonus of 50,000 points. To qualify, cardholders must spend at least $4,000 on purchases within the first 3 months of account opening. According to Chase, the bonus is worth up to $750, when redeemed for travel through the UR portal.
How to Check Your Chase Credit Card Application Status
If you recently applied for a Chase credit card and received a message that your application is pending review, here is how to check your Chase credit card application status:
How to check Chase credit card application status:
Chase has an automated telephone line that you can call to check the status of your recent credit card application.
To check your Chase credit card application status call 888-338-2586 and enter your social security number to check your status through the automated system.
Unlike most other banks, Chase does not have a page to check your application status online.
If your application is denied or pending, there is no way to find that information online. However, if you are approved there is a way for existing Chase cardholders to see this online.
If you already have another Chase credit card and have an online banking account, you might notice a new account added to your online profile before receiving an email that you are approved. For example, when I applied for an Ink Plus card a few months ago, I found out I was approved when I logged into my chase.com business profile (for another Ink card) and I saw that a new account was added. I did receive an email that I was approved but it arrived at least 1-2 days after I saw the new credit card had been added to my online account.
Denied or Decision Still Pending? Call the Chase Reconsideration Line
If your application was denied, you can call the Chase reconsideration line and ask them to reconsider their decision.
Even if your credit card application is still pending, you can call the reconsideration line for an immediate decision. (However, if you applied for a business card, I recommend waiting and not calling unless you are denied.)
If Chase is unwilling to extend you more credit and you already have other Chase cards, you might be approved if you ask the representative to move some of your credit from one of your other credit cards or ask them to close one of your other card accounts. Keep in mind that if you get denied because of the Chase 5/24 rule it will be difficult to get Chase to reconsider.
The Chase reconsideration line phone numbers are as follows:
• Personal cards: 1-888-270-2127 (new number) (Mon-Fri 7am-10pm, Sat 8am-10pm, Sun 9am-9pm Eastern Standard Time)
• Business cards: 800-453-9719 (Mon-Fri 8am-10pm Eastern Standard Time)
Why I closed my Chase credit card account
LOL. Yea, I am sure, JPM Chase, with assets exceeding 1.5 TRILLION dollars, needs the OP's $29.00 badly. I can assure you, Jamie Dimon does not need the $29.00. Its all about the approach my friend. Most of the androids there are nice androids; even the ones in India. Try again, but say you made a mistake and POLITELY request the credit card reinstatement and a reversal of the $29.00 fee. Blame the prior rudeness (which will be in the account notes) on stress and work. Plus, the account closure will hurt your FICO and credit scores.
Chase androids are in the Philippines.
thereby forfeiting my Cash Plus Rewards (a no-brainer in my opinion since the web site given
does not work anyway).
I also think canceling a chase card is silly. I have had the use of $60,000 or so for a couple of years due to their generous 0% offers.
Since I was being screwed over by Chase, I asked to have my credit card account closed, thereby forfeiting my Cash Plus Rewards (a no-brainer in my opinion since the web site given does not work anyway).
I use chase.com once every few months to get a $50 check from my Cash Plus Rewards account. In fact I just received one earlier this week. The web site works for me every time. What exactly about the web site isn't working?
If the due date is the 15th, but you want to be able to pay as late as the 17th without penalty, then wouldnt that make the actual due date the 17th?
I know when the statement closes for each and every one of my accounts, and check them monthly to ensure the balance is correct (even if its $0). Fraudulant charges, erroneous fees, etc are just as likely on cards you dont regularly use as cards you do. If you figure that you havent used a card so you dont need to check the statements, by the time you notice a mistake the timeframe to dispute it will have long past.
You say how Chase is being so terrible, yet then go on to punish yourself for the screw-up. Despite the ranting, it seems even you agree that you are to blame.