Airport City: Airline Tycoon Sim
Open iTunes to buy and download apps.
• Create the airport of your dreams in this city building simulator.
• Assemble a fleet of cool planes: from private jets to transcontinental airplanes.
• Bring back rare artifacts from your flights and complete collections!
• Take part in limited-time adventures and get special rewards.
• Team up with your friends and form an alliance! Playing together is always more fun.
• Send missions to space after taking control of the skies. A true tycoon knows no limits!
This game is so fun and interesting with so many twists and turns
Finally. A game that you can stay with
Really fun, can't put it down
Airport City HD will definitely keep you entertained
It's all about the logistics of putting a working airport together
• Thunder is coming! Survive the adverse weather conditions such as fog, crosswind, and sandstorm, and get an increased reward if you're lucky to see the rainbow or the northern lights.
• Build a Weather Station to decrease the chance of bad weather and get special bonuses.
• New land expansions are now available.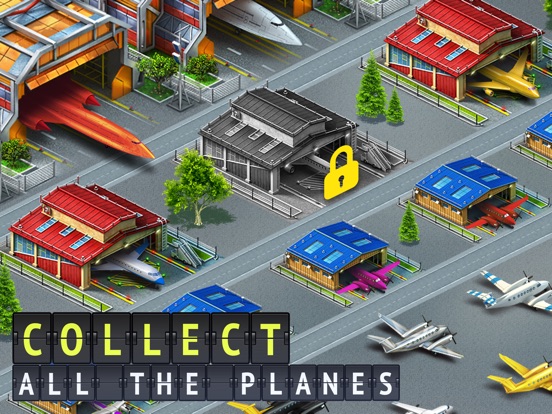 Fun concept, but way too much money -- very hard to progress
You'll die of old age before you can truly advance in this game. Aliances seem like a good way to go, but you'll never have an invitation accepted if you're a newbie. Even the smallest updates to buildings require real money spent because there is virtually no way to collect the items required? Want to fly to Malta? Ok, you need this one thing that you can only get from a flight to 'Blah.' Oh you want a flight to "Blah?' -- you need to upgrade the traffic control tower. You save for the traffic control tower. oh you need eight more items that require you to fly to somewhere else. Try to fly to somewhere else, sorry -- you need to upgrade a runway. It's ridiculous. I'm done and deleting the app.
Said I violated terms and conditions and lost all my friends
I love playing this game. With that being said I am extremely frustrated with the game developers. I made it to level 24 and had over 40 friends that I could share gifts with and I would receive in return. One day I went to logon and they were all gone, I was booted from the alliance I finally found to join and I got a message "Your account has been found to violate our terms of use. Please contact support if you believe that's an error". I'm on Day 5 awaiting my email back from support asking why and when are they going to fix this issue on their end. I don't get it. All I do is play the game and complete quests. I am a couple days away from just deleting the game.
Same complaint of most of the other reviewers
Love the gameplay, the storyline, etc. Too bad the developers chose to gouge us on actually playing the game. Cannot realistically progress in the game without paying. I'm a very patient person, and I don't mind waiting for upgrades, even on this timeline, but they sneak in extras that basically demand that I pay real cash for even the smallest items.
I'll keep the game around for a while, and periodically check for the rare item (1 of 8) that I need to finish upgrading a building, but the magic of the game is gone. Eventually it will be deleted and replaced by a better game.
Compatibility: Requires iOS 7.0 or later. Compatible with iPhone, iPad, and iPod touch.
Pack of 6 Airport Cash $1.99
Pack of 96 Airport Cash $9.99
Pack of 32 Airport Cash $9.99
Pack of 15 Airport Cash $4.99
Pack of 3000 coins $1.99
Pack of 16000 coins $9.99
Pack of 7500 coins $4.99
Pack of 48000 coins $9.99
Pack of 112 Airport Cash $29.99
Pack of 336 Airport Cash $29.99

Discover and share

Discover and share new music, movies, TV, books, and more.
Customer Reviews (Last Updated on 2 Sep 2017)
Shelley was cordial, professional and helpful in the chat when I was checking with her on my reservation M3A3HP. She informed me that m.
Shelley, Thank you so much for your assistance with helping to get my flights re-scheduled! I was worried about being able to cancel. I.
Shelley answered my questions faster than the time it took to reach a real person on the telephone. Quick response. Very satisfied with.
citi airline cards
PAD - Paderborn, Germany - Paderborn/lippstadt
PAD - Paderborn, Germany - Paderborn/lippstadt
PAD - Paderborn, Germany - Paderborn/lippstadt
PAD - Paderborn, Germany - Paderborn/lippstadt
PAD - Paderborn, Germany - Paderborn/lippstadt
-TO INCLINE THE AIRCRAFT AT AN ANGLE WHILE TURNING LEFT OR RIGHT
-A NUMBER OF FLIGHTS LEAVING A HUB CITY DURING A SHORT PERIOD OF TIME
TROLLEY USED TO ROLL DOWN THE AISLE TO SERVE BEVERAGES TO THE CUSTOMER
1- CRASH-FIRE-RESCUE EMERGENCY EQUIPMENT
2- CODE OF FEDERAL REGULATIONS
DOT (DEPARTMENT OF TRANSPORTATION)
COLLAPSIBLE SEAT IN THE CABIN FOR THE FLIGHT ATTENDANT TO SIT DURING TAKEOFF AND LANDING
FAA (FEDERAL AVIATION ADMINISTRATION)
ILS (INSTRUMENT LANDING SYSTEMS)
-TIME SPENT ON THE GROUND BETWEEN FLIGHTS WHEN PASSANGER'S ITINERARY INVOLVES A CONNECTION
-THE TIME SPEND DOWNLINE BETWEEN FLIGHTS (CREW REST)
REFERS TO EACH FLIGHT OF THE PASSENGER OR CREWMEMBER ITINERARY